Saraswati House
First part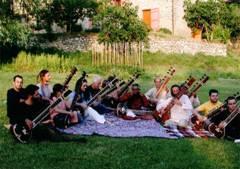 Saraswati House is the first center for indian music in Italy based on the idea of GURUKHULA, namely a place where Teachers and students can live together and share the everyday activities.
This is typical of indian tradition and Rabindranath Tagore himself used to say that "the true school is that secluded place, amidst nature, where Guru (Teachers) and Shishya (students) are supposed to eat together, watch the stars and dedicate themselves to different activities in order to achieve an all round psycho-physical well-being".
For these reasons the settings are those pertaining to simplicity...an ashram favourable to study and concentration. Obviously the choice of Assisi is not casual. Saraswati House, immersed in the green Umbrian hills, is permeated by that peace and simplicity as conveyed by Saint Francis.
The structure is supplied with a large hall which permits the organization of seminars and concerts, and some small guest-rooms for lodging in a simple "franciscan" style.
The ample meadow and the garden permit to practice and study in the open air, in a meditative silence.
The musical season usually begins in April and continues until November.
Saraswati House opened with the first indian music concert in 1991 and since that time the activity has had a continuous growth. Numerous artists have had here the opportunity to perform for their first time in Italy, even though being well known or famous in India.
All the indian musicians who have been performing here say this place is particular and inspiring to perform at their best, in such an "intimate" and familiar atmosphere.
After all, those who attend the concerts or abitually frequent this place are in a large part musicians or students, besides the different people fond of India and indian culture.
[
next page
]